Gosh – already we've flown into October, with lockdown freedom finallllllly here! Thank you to you all for sticking with us over the last couple of months. The biggest part of our program relies on community donations – made somewhat tricky when our normal drop offs close. But we've muddled along and kept going. Our team of trusty volunteers kept turning up, with cheerful smiles behind masks and chit chat to keep us going!
September was our second largest month for requests for support ever, 110 families supporting 242 children. And our biggest reflection has been that we almost didn't notice! We were lucky to bring on a few new volunteers just before lockdown – they're now old hands – and this incredible group has sorted, prepared and packaged over 250 bundles with over 4000 items in September.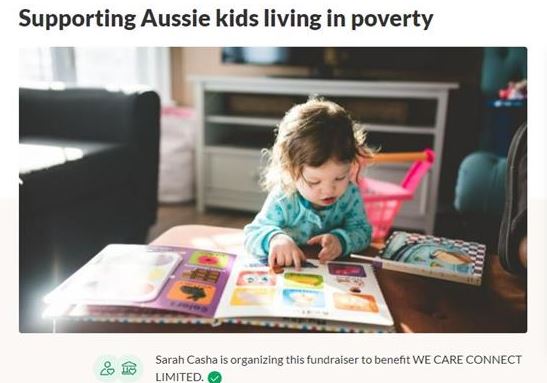 Local supporter campaign – with donations tripled! 
We think this is a wonderful way to kick off our lockdown freedom – and we almost can't believe we're lucky enough to be involved!
One of our supporter's is running a campaign for We Care where all donations will be TRIPLED over the next week by their employer, Macquarie Group – so a $10 donation becomes $30, $20 becomes $60 and so on!
Supporting her mum, Rita – one of our lovely volunteers here in Wyong – Sarah is organising a donation drive through her work seeking both much needed baby equipment and funds.
Read more, or get involved here: https://gofund.me/77af5af8
If you would like to contribute, your donation will be tripled too! That means your $20 donation = $60, $50 becomes $150 and $100 = $300! Every dollar up to $5,000 will be triple matched, meaning the impact of your donation is three times as great! If (or when!) the $5,000 is reached, donations are doubled.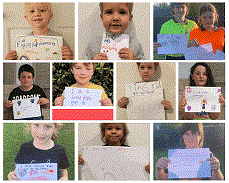 This Sunday, 17th October, is WORLD POVERTY DAY
Statistically, 1 in 6 kids live in poverty on the Central Coast – a statistic that breaks our heart.
That's 10,000 children living without the basic food, clothing and essentials they need. We Care Connect was founded on the belief that as a community, there's a very practical way to support these 10,000 children.
What might poverty look like for these kids?
– A 3 year-old in a car seat well over 10 years old but Mum can't afford to replace it
– A 12-year-old boy who always pretends to "forget" his lunch so the canteen provides it to them
– A 6-year-old girl with newspaper in their hand-me-down school shoes so they fit.
Over the last 5 years, together, we have now supported close to 10,000 children with practical pre-loved items like clothing, car seats, cots and prams. 95% of this is community donated.
Here's a few ways you can continue to get involved ✨
* Make a financial donation – on average is costs us $42 to support each child. This year, our goal is to help 3,500 local children.
* Donate any great quality, pre-loved children's items – check out the list of items we can rehome, and those we can't, on the We Care website
* Provide a brand new Christmas gift as part of our Christmas Present Program – more details to come on this soon
* Share this email, or our social media posts about World Poverty Day, so more people know about We Care Connect, and how they can make a difference too
Thank you to the local kids who put their colouring pens to paper, to show they care for local children living in poverty.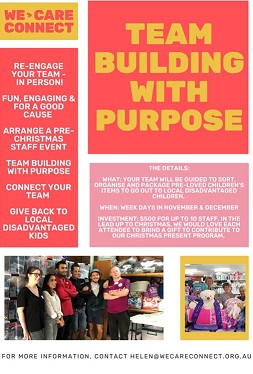 Team building with purpose
We have been working on putting something together for organisations interested in doing a corporate volunteer day with us – as a way to re-engage their team after so long apart, and end 2021 on a positive note by giving back.
Our Team Building With Purpose days will see groups of up to 10 guided to sort, organise and package pre-loved children's items. Days will take place over November & December, we thought it might be a good alternative to the traditional team building or Christmas get together… or organisations can use it as a pre gettogether ahead of their Christmas Party! The investment is $500 for up to 10 staff, and we'd love each attendee to bring a gift to contribute to our Christmas Present Program.
For more information, please contact helen@wecareconnect.org.au – and please forward this on to anyone you think might be interested!
Our new website is live! 
Earlier in the year, We Care Connect got a snazzy new re-designed look (thank you so much Hours After!).
Now, thanks to some wonderful pro-bono support from Platinum Digital Services and Words of Worth, we have launched our new look website. Annette from Platinum Digital Services created the new site for us, and local content agency Words of Worth put together some lovely new ways for us to describe what we do for vulnerable kids on the Coast.
www.wecareconnect.org.au Please go and take a look and let us know what you think! A very big thank you to these three teams who all donated their services to create the new website at no cost to We Care Connect.
Last year we provided over 2,000 Christmas gifts to over 700 children – a mix of stocking fillers and a larger gift. We are hearing that a number of the organisations that normally organise gifts won't be running their programs this year – so we think the need will be even greater this Christmas. And of course, there's lots of chatter about stock shortages and Australia Post delays. We're working on the best way to ask you to support us over our Christmas Present Program – and we'll let you know as soon as possible!
Again, thank you for sticking with us. There really is some unthinkable hardship within our community right now. We are extremely grateful to be able to do what we do with your support.
The We Care Team x