May was an all-time record month at We Care, around a staggering 150 families.
Every second request is asking for the same things – warm clothing and blankets are the families are really struggling to afford heating costs, so warm clothes and blankets are the next best thing. Not only that, we've had to contend with volunteer shortages resulting from CoVid, 'flu and other issues.
But thanks to a huge amount of skill and sheer hard work, we've coped so well. At times it felt we would be compelled to tell case workers they would need to wait longer but we know that being cold is an awful thing, and a child being cold is even more awful.
We are so proud that we have not said 'no' to a single child.
It doesn't seem to be just us. Other local support services, and case workers are saying the same. With so many costs increasing (fuel, food …) and no changes in Centrelink and wages, and a sudden onset of freezing weather. The work we are all doing is truly meeting a major need.
We've now supported over 10,000 local children
Earlier this month we reached a bittersweet milestone of supporting 10,000 local children. By reaching this number, it only re-emphasises exactly We Care exists – the appalling poverty that exists on the Central Coast that is often hidden. And whilst the milestone is a bittersweet celebration, there are a number of reasons to celebrate – the exceptional level of community generosity to donate enough items to support 10,000 kids, over 312,000 items have been donated over the past six years; and the wonderful volunteer workforce who sort, pack and prepare the bundles for disadvantaged children.
As part of this milestone, we created a series of videos to reflect and look ahead, we'd love to share these with you too. You can click on the links below to go to the YouTube videos.
• How We Care first started: https://www.youtube.com/watch?v=NeWGu53sdt0
• What We Care is like today: https://www.youtube.com/watch?v=puC2BHLjAic
• Our vision for what might be next at We Care: https://www.youtube.com/watch?v=s_wLd13Hk0M
The We Care Winter Appeal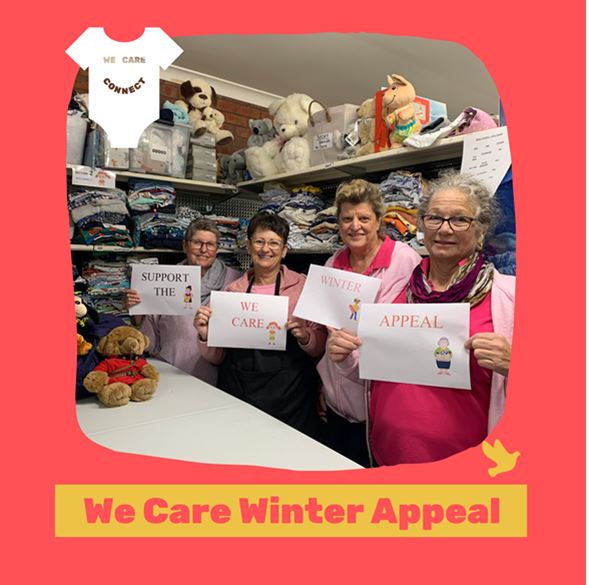 This Winter we expect to receive requests to support around 800 children to provide them with warm clothing and bedding. These families are living in freezing cold conditions as they can't afford to heat their homes – so they rely on warm clothing and blankets to stay warm through the night.
Over the next few weeks, we are asking this community to make a donation to help support these 800 children over the cold Winter months. Your donation will:

Provide a child with the warm clothing and blankets they need this Winter

Be tax deductible

Ensure we don't have to say no to a single request for support over the cold winter months.
Together, we can do so much more. Funds raised will go directly to supporting these 800 children over the cold winter months. Thank you.
https://wecarewinterappeal.raisely.com/
The Sunday Sort Volunteering Opportunity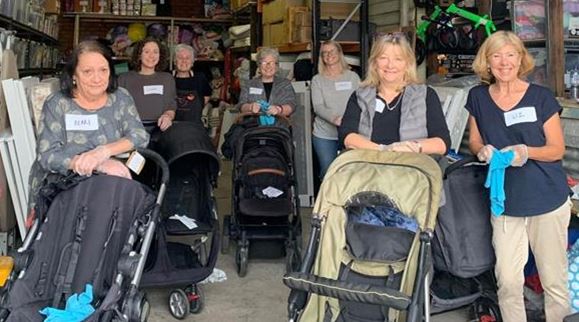 Once a month, we're opening up on a Sunday morning to add another option to volunteer at We Care.
Details:
• Sunday 19th June, 9.30 – 12.30pm
• We Care Base in Wyong
• You'll be sorting, organising and preparing donated items of children's clothing, books, prams & car seats
If you are interested, please email your name & phone number to: helen@wecareconnect.org.au Places are limited so please get in touch ASAP if you're interested.
What's happening next – keeping kids warm over Winter
Helping vulnerable families with everyday essentials is at the heart of everything we do. As we mentioned above, we expect to help over 800 children this Winter, and we would love your help to support them through a donation to the We Care Winter Appeal – https://wecarewinterappeal.raisely.com/.
Your support ensures we're equipped to continue to provide more care bundles, more clothing, more cots, more warm blankets and ultimately towards reducing the impact of poverty for thousands of children in our community.
We honestly say "thank you" for this wonderful community on a daily basis – and thank you Derryck for being a part of it.
The We Care Team x